Marvel has recently announced their upcoming releases they have planned. With this list there several that stands out in particular. The movies planned to release are Black Panther 2, the Falcon and the Winter Soldier, and Blade — all of which feature Black lead actors. This is something that is very rarely seen in action and superhero movies. At its release Black Panther, staring Chadwick Boseman, broke a number of records in the film world. One record includes grossing over $1.35 billion — becoming the 3rd highest grossing film ever in North America, the 9th highest grossing film ever, and becoming the highest grossing film by a black director.
Although announced for a release in the near future, Blade had an original run starting in 1998, played by Wesley Snipes. The Blade series ended in 2004 after spawning 2 sequels — Blade ll and Blade: The Trinity. Marvel's new Blade will be played by Academy award winner, Mahershala Ali.
Finally the Falcon and The Winter Soldier series on Disney+, an exclusive streaming service coming before Fall 2020, will feature Anthony Mackie as the lead. Although he is not new to the Marvel cinematic universe, this series will be the first as Mackie as the lead role.
These two films and series will address a major problem that currently faces the film industry: the lack of Black representation in action/superhero movies. As of now, it can be seen that many films in this genre failed to have any sort of representation for Black audiences. We saw this during the Black Panther film. With the film breaking numerous records and receiving critical acclamation, it was proven that a great action superhero film could be achieved by Black lead characters. Along with Black Panther, the original Blade films were met with great acclaim and popularity from Black people of all ages. After years of absence, Twitter showed their excitement as Marvel announced the return of Blade
Finally, the new series, The Falcon and Winter Soldier starring actor Anthony Mackie. With being in the background to a number of Marvel movies, he will finally getting the lead in his own series. After the ending of Avengers Endgame, it could be seen that Mackie's character would make him the new Captain America. Of all Marvel characters, Captain America could be seen as the most iconic since he is America's superhero. With him representing the idea of the "American Value," Mackie's role as the new Captain America could be proven to be a revolutionary role in the world of action and superhero cinema. In a similar case, these two films were groundbreaking for women in action movies: Wonder Woman and Captain Marvel films.
With the past success of the first Black Panther film, will these projects be met with same success? If there are any indicators from the past, it should be acknowledgement that the film power house of Marvel Studios are known for putting together successful strings of movies one after the other. If this is so, maybe these movies could change the face of film industry and prove that Black lead superhero movies will be here to stay. With the recent rise of other major black directors, such as Jordan Peele and Ava DuVernay, there will be a rise of influence for young Black film directors and writers who will gain more interest in breaking into the film industry by way of superhero and action films. With these film announcements, there will sure to be many who will be influenced by the direction of the films to make the choice of taking this influence into their own personal creative endeavors.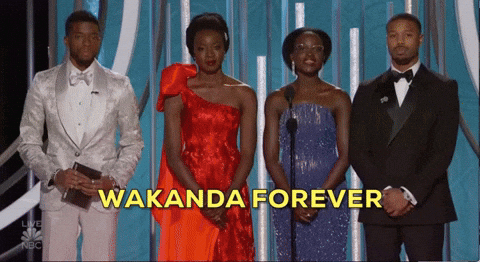 Souces images
https://images.app.goo.gl/ziGuRkBGxsGthzc47